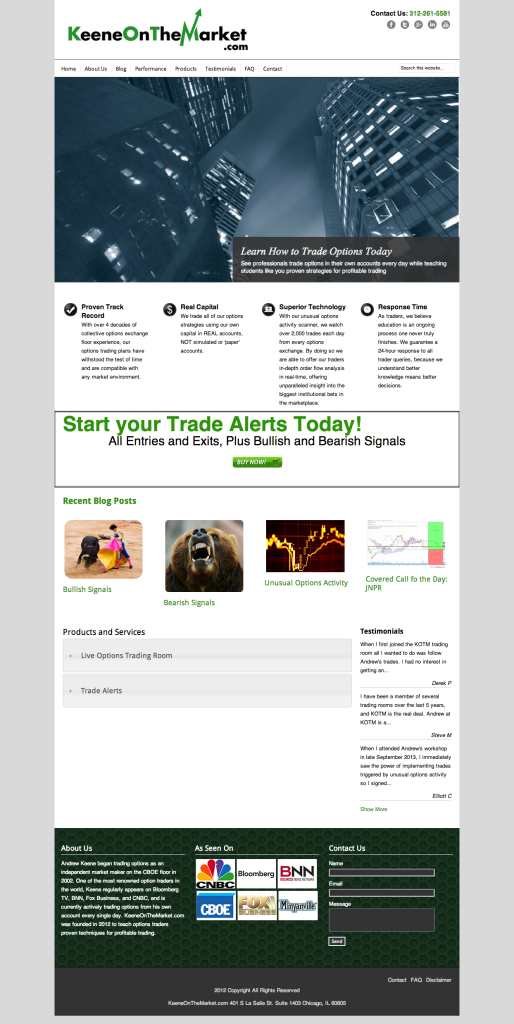 Andrew Keene is one of the Chicago Board of Options Exchange's most recognized faces in the media and financial community, making regular appearances on Bloomberg TV, BNN, CNBC, Fox Business, Sky Australia, and CBOETV. He is also a regular contributor for Bloomberg Radio, DailyForex.com, Trader Planet, Minyanville.com, and Jim Cramer's TheStreet.com.
Andrew was an independent equity options trading expert on the Chicago Board Options Exchange for 11 years. During this time, he was a market maker in over 125 stocks including Apple, General Electric, Goldman Sachs, and Yahoo. From 2006-2009, Andrew was the biggest, independent on-the-floor Apple trader in the world.
Currently, Andrew is actively trading futures, equity options, currency pairs and commodities while teaching thousands of traders how to successfully trade options contracts by following unusual options activity through his website's live trading room, and via Twitter and text alerts.
We met Andrew in the summer of 2013 when he was looking to redesign his website. We helped his team convert their old Joomla platform over to WordPress, including thousands of articles, images and charts in its database. We also helped implement the Office Autopilot customer relationship management platform, and an online payment system for his products.
This has been an awesome, fast-paced job for us, and we're grateful to continue to work with the KOTM team almost daily to carry out their business!